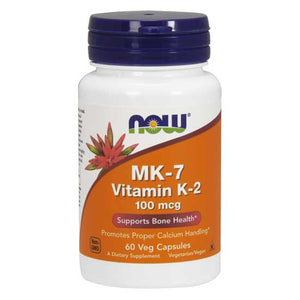 Vitamin K2 - MK-7
Sale price
$17.99
Regular price
$19.99
MK7, Natto-derived form, 
100 mcg
Supports Arterial Health & Directs Calcium to the Bones (not the Arteries) With the Help of Vitamin D.
This is a little known wonder nutrient! Vitamin K2 is critical for the formation of healthy, strong bone matrix. In fact, bone quality is dependent on the presence of adequate Vitamin K in addition to Vitamin D3. MK-7 directs the mineral matrix to the bones where it is needed. Without MK-7 the minerals may stay in the bloodstream. Vitamin MK-7 is clearly the most biologically active and superior form of Vitamin K. MK-7 also helps normalize blood pressure, helps clear plaque from veins and arteries, removes wrinkles, sagging skin and calcium deposits and strengthens the immune system.
INGREDIENTS: 100 mcg Vitamin K 2 (Menaquinone MK-7), 2 mg Vitamin C (Ascorbyl palmitate), Rice Flour, Silica.
60 Vcaps
---
More from this collection