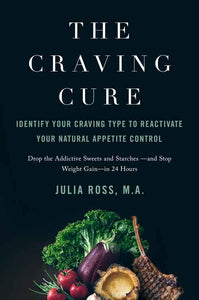 The Craving Cure (NEW!)
Identify Your Craving Type to Activate Your Natural Appetite Control. 
Drop Addictive Sweets and Starches--and Stop Weight Gain--in 24 Hours.
The Craving Cure exposes the real reason so many of us can't stick to a healthy diet: our favorite foods are engineered to be addictive.
At her clinic in California, Julia and her colleagues treat food addiction where it starts—in the brain—by triggering our natural appetite-regulating neurotransmitters with nutrients called amino acids. It turns out that these protein concentrates boost our neurotransmitters, which broadcast sensations of satisfaction that no food, including chocolate, can override. Thousands of Julia's clients have abolished their cravings for high-calorie confections using this simple nutritional strategy.
WITH THE CRAVING CURE, JULIA GRANTS ALL OF US ACCESS TO THIS REVOLUTIONARY BRAIN JUMPSTART PROGRAM.
This is an autographed Edition and comes with a streamlined  action plan in digital format.
---
More from this collection