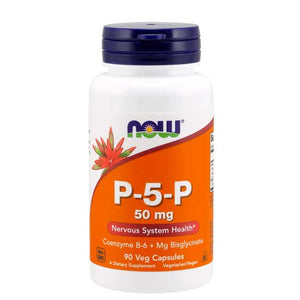 P-5-P
The co-enzyme form of Vitamin B6, 50 mg.
When basic Vitamin B6 supplements do not restore the ability to dream (this is the most obvious B6 deficiency symptom, but B6 is also needed for the transformation of the aminos to neurotransmitters) Most Pyrolurics are deeply deficient (see The Mood Cure).
Vitamin B 6 (Pyridoxine) acts primarily as an enzyme catalyst in many body processes including energy metabolism and neurotransmitter function.  Before it can be used for this purpose it must be converted into its coenzyme form by the liver.  P-5-P eliminates this step by providing Vitamin B 6 in its converted form, allowing for greater bioavailability.  This product is enterically coated to avoid potency loss during digestion.                                    
INGREDIENTS:  17 mg Riboflavin (Vit. B 2), 33 mg Coenzyme Vit. B6 (50 mg Pyridoxal-5-Phosphate), and 100 mg Magnesium,  Dicalcium Phosphate, Stearic Acid (vegetable source), Croscarmellose Sodium, Magnesium stearate (vegetable source).  
60 tablets
---
More from this collection