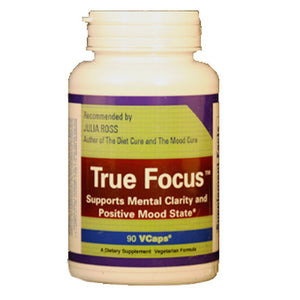 True Focus
Combining tyrosine and phenylalanine, the two aminos that build our stimulating neurotransmitters, with other nutrients and herbs can best enhance alertness and attentiveness, as well as mental and physical energy for many. (Craving Type 5 and Mood Type 2 find this formula particularly helpful).
Do not take if you have high blood pressure, melanoma, hyperthyroidism, or migraine. Also if pregnant or nursing.
INGREDIENTS: 400 mg L-Tyrosine, 150 mg L-Phenylalanine, 50 mg L-Taurine, 40 mg Grape Seed Extract (min.90% Total Polyphenols), 30 mg DMAE, 20 mg Ginkgo Biloba (24%), 18 mg Vit. C (Potassium Ascorbate), 12 mg Potassium (Ascorbate), 5 mg CoQ10, 6 mg Vit. B6 (Pyridoxine HCl), Magnesium Stearate, Silica.
90 VCaps
---
More from this collection