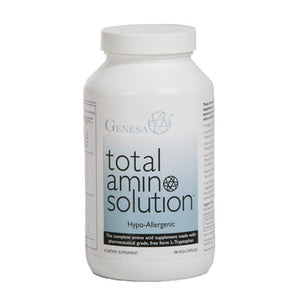 Total Amino Solution
22 Amino Acids w/key nutritional co-factors. Julia Ross co-designed it.
Benefits are often felt immediately, especially by our Craving Type 3 clients, chronic pain sufferers, and recent vegans. Generally single amino supplements, unless maternal deficiency is obvious, are not recommended til nursing stops, but this product has been enthusiastically welcomed, even by the O.B.s of our pregnant and nursing clients (along with prenatal vitamins, minerals, and fatty acids).
INGREDIENTS: Essential Amino Acids: 50 mg L-Lysine, 50 mg L-Valine, 50 mg L-Tryptophan, 45 mg L-Phenylalanine, 40 mg L-Methionine, 35 mg L-Leucine, 35 mg L-Threonine, 30 mg L-Isoleucine, 25 mg L-Arginine, 25 mg L-Histidine. Non-Essential Amino Acids: 44 mg L-Tyrosine, 40 mg L-Carnitine, 40 mg L-Serine, 40 mg L-Glutamine, 35 mg Aspartic Acid, 30 mg L-Proline, 30 mg L-Glycine, 30 mg Taurine, 30 mg L-Cysteine (as N-Acetyl Cysteine), 25 mg GABA, 25 mg L-Alanine, 25 mg L-Glutamic Acid. Nutritional Co-Factors: 1 mg Coenzyme Vit. B2 (Flavin Mononucleotide/Riboflavin), 1 mg Vit. B3 (Niacinamide), 1 mg Vit. B6 (Pyridoxal-5-Phosphate), 20 mcg Vit. B12 (Methylcobalamin), 133 mcg Folic Acid (Calcium Folinate), 3.1 mg Magnesium (Amino Acid Chelate).
783.33 mg, 180 Vegicaps
---
More from this collection