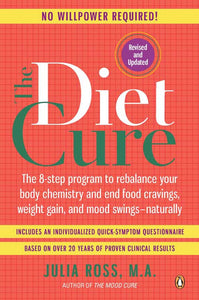 The Diet Cure (New 2nd Edition)
The 8 Step Program To Rebalance Your Body Chemistry and End Food Cravings, Weight Problems and Mood Swings-NOW!
More than 100,000 copies later, this breakthrough program is more effective than ever—substantially revised and updated to include the author's latest clinical research.
A national bestseller, the revised and updated The Diet Cure gives you clinically-proven answers to your diet dilemmas, including
How dieting actually causes unneeded weight gain and eating disorders
The real reason you can't stay away from cookies, ice cream, pasta, soda, and candy.
How to turn off your urges with amazing amino acids
The truth about the thyroid's role in weight gain and fatigue, and how to successfully test and treat it (and get a doctor to cooperate!)
How to rescue your exhausted adrenals to stop the stress and the stress-eating.
How your food choices are skewed by food intolerances and blood-sugar swings, and what to do about both.
How to untangle the hype about Fats, Grains, Carbs, Meats, and Calories.
---
More from this collection