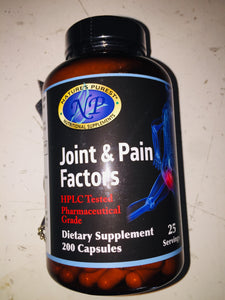 Joint & Pain Factors
Our most effective natural joint support formula. Provides powerful nutrients for joint health and mobility and natural anti-inflammatory botanicals and amino acids to reduce pain and stiffness.
INGREDIENTS: 187 mg Glucosamine Sulfate, 150 mg Chondroitin Sulfate (Bovine), 125 mg MSM, 12.5 mg Hyaluronic acid, 62 mg Boswellia (min. 65% Boswellic acids), 62 mg DLPA, 33 mg Quercitin, 33 mg Bromelain (2400 gdu), 33 mg Curcumin (95% Curcuminoids) Gelatin, White rice, Magnesium stearate.
200 capsules
---
More from this collection