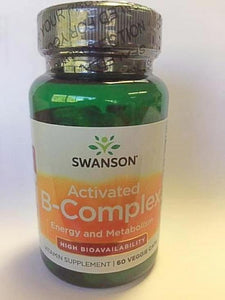 B-Complex Plus (Methylated)
Usually not needed if the special multi with methylated B vitamins is used.
The B vitamins are essential for the proper functioning of the nervous system and are perhaps the most important nutritional factor for healthy nerve cells. The B vitamins also play a role in the conversion of carbohydrates into energy, in the metabolism of fats and protein, and in the maintenance of muscle tone in the GI tract. The B vitamins support the integrity of the skin, hair, and liver. This balanced combination of functionally interrelated B vitamins provides wide ranging benefits, yet is specifically supportive of the nervous system.
INGREDIENTS: 25 mg Thiamin (thiamin HCl) (B1), 25 mg Riboflavin (Vitamin B2), 50 mg Niacin (niacinamide), 25 mg Vitamin B6 (pyridoxine HCl), 400 mcg Folate (Metafolin, L-5-MTHF), 250 mcg Vitamin B12 (methylcobalamin), 25 mcg Biotin, 25 mg Pantothenic Acid (calcium pantothenate) (B5), 10 mg Riboflavin-5-Phosphate (activated B2), 10 mg Pyridoxal 5' Phosphate (activated B6), 12.5 mg Inositol hexaniacinate (no flush niacin), 25mg PABA. Swanson.
60 capsules
---
More from this collection