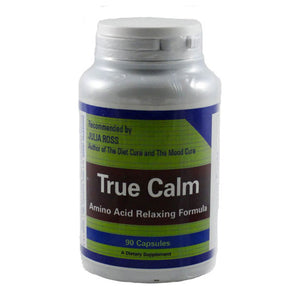 True Calm
Take if GABA Calm is not strong enough, or you don't like it or the 200mg GABA chewable's flavorings.      
True Calm can provide deep ease by combining GABA with other amino acids which keep stress-related messages from reaching the motor centers of the brain, thus reducing adrenalin and other excitatory neurotransmitters.
INGREDI­ENTS: 200 mg GABA, 200 mg Glycine, 200 mg Taurine, 100 mg Inositol, 45 mg Niacinamide, 25 mg Valerian, 13 mg Magnesium (Amino Acid Chelate), 8 mg Vitamin B6 (Pyridoxine Hydrochloride).
90 Capsules
---
More from this collection